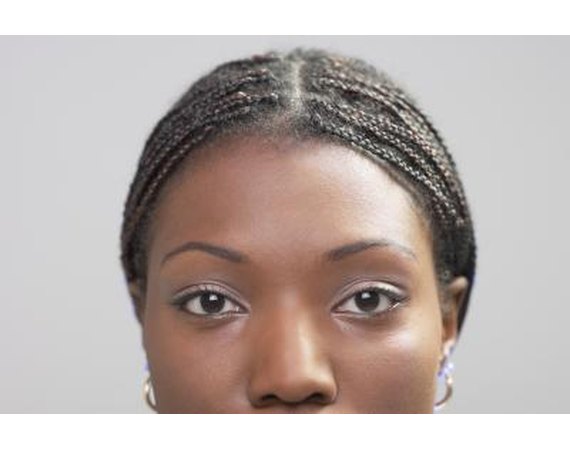 Sewing weaves into the hair has become part of modern-day braiding. A weave is an extension created in a particular style from either synthetic or human hair. Both types are convenient and comfortable. However, certain products such as mousse, pink oil and wrapping lotion can only be used on a human hair weave, while a synthetic one will look excellent with just an oil sheen spray.
Choosing Your Sew-In Hair Weave
Weaves come in various lengths, starting at eight inches. You can choose straight, wavy, curly, spiral or any other style of weave to sew into your hair. To create a simple sew-in, buy two Italian Perm Short Cut series weaves in human hair. They come in eight-inch lengths. The eight-inch weave is easy to style after it has been sewn into the hair. Buy two packs in order to have enough to give volume to your full head of hair. Human hair weaves tangle less than synthetic, and last longer, about six weeks or more.
Selecting the Tools for Your Weave
To sew a weave into your hair, you need a 14- to 18 -inch needle, black crochet thread, a tail comb, braiding extension, hair cream, scissors, mousse and oil sheen spray. You may want to use an African wooden cutting comb, which parts the hair easily. In its absence, the tail comb will work. Use the tail or African wooden cutting comb to part your hair starting from the nape of the neck at the back of the head to form a circle. Pick out some strands of the braiding extension and part them into three sections. Use the extension to part the beginning of the parted hair into three and begin to braid. This process creates cornrows. Continue it until the whole head is braided in a circle.
Completing the Task
Take the black crochet thread and push it through the 14- to 18-inch needle and cut to your desired length with the scissors. Tie a knot. The weave comes in three pieces in each pack, so pick a piece and fold it into two. Sew it into the cornrows, starting from the beginning of the cornrow at the nape area. Once you have sewn the weave onto the entire head, close the middle where the cornrows end, making it a circle by sewing it up. If you have leftover weave, use it to fill in and create additional volume by sewing it in between the already sewn-in weave. Do this by using a hair or rubber band to hold the weave up in between the lines.

Once you have finished, apply a mousse, using your hands to style the hair into a side or center part. You can also use a hair band that goes around the head to push the weave back, keeping it out of your face. Spray your oil sheen onto the weave.